In the Manga
Edit
In the manga, the next pilot is randomly selected telepathically almost immediately after the current battle is over. Unlike the anime, Dung Beetle has no control over who is selected and the chairs do not spin in a circular pattern.
However, the anime does stay true to the fact that each chair is connected to a particular pilot.
In the Anime
Edit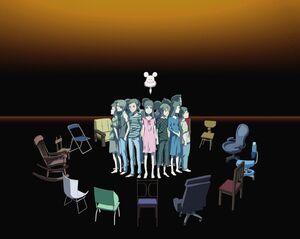 The chairs are actually connected to those where they live or the chairs they usually sit on. When choosing the next pilot, all of the chairs move around in circular motion. When the chairs stop moving, the chosen pilot will hear a voice; alerting him/her that he/she will fight in the next battle.
After the next pilot is selected, tattoo-like patterns appear on their body. These markings have patterns that reflect the characteristics of the robot opponent in the next battle.